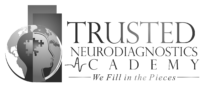 State of the Art & Innovative Technology to Complement our Teams
Advanced NeuroSolutions utilizes an integrated workflow system that dynamically links IONM medical professionals to the resources and technology necessary to deliver on patient outcomes. Multiples stakeholders are integrated to provide efficient and effective results. Doctors, surgeons, neurophysiologists, hospitals, insurers, and patients are served by the accurate and seamless flow of information.
Our neurophysiologists and technicians utilize secure, state of the art technology for IONM cases. Cadwell was formed in 1979 and is a global leader in the development, manufacturing, and servicing of neurophysiological equipment.
Our technicians utilize the Trusted Neurodiagnostics Academy (a leading eLearning platform) for continuing education units and to enhance their skills.
Compliance
Advanced NeuroSolutions maintains a comprehensive Security, Risk Management, and Compliance program. We have a documented security protocol which is tested and all of our neurophysiologists and corporate professionals are thoroughly trained on compliance measures. Advanced NeuroSolutions complies to HIPAA (Health Insurance Portability and Accountability Act), HITECH (Health Information Technology for Economic and Clinical Health Act) regulations, and electronic Protected Health Information (ePHI). We do not sell any information and take necessary actions to protect and keep confidential patient data.
A Seamless Approach
Our efficient and effective teaming approach "eliminates the noise" and enables the surgical, doctor, hospital, and IONM teams to focus on the patient's outcomes. We are service focused and have IONM technicians on call. Our IONM technicians also follow protocols with the surgeons/doctors.
Advanced NeuroSolutions is a "one stop shop." We provide trained technicians, neurologist monitoring, equipment, and supplies as part of the procedure. Our corporate team is responsible for the scheduling and for the post-procedure the billing and collections.
Innovative and trustworthy. I used Advanced NeuroSolutions for IONM services and was excited to hear they were providing EEG services. ANS is continuously seeking to help me and my patients through new technologies, techniques and approaches.
Client Physician
CALL US TODAY
(918) 895-7680Advanced NeuroSolutions is your trusted source for the highest quality Intraoperative Neurophysiologic Monitoring (IONM) and Electroencephalography (EEG) medical services.